February 12th, 2010
In the beginning I wasn't too positive about chosing the Philippines as my next travel destination. Of course its located in the Pacific Ocean what can be bad about the Phillipines? You will be able to visit some of the most stunning beaches, gorges and reefs in the world but besides that?
I heard and read a lot about the Philippines from their cheesy male tourists who come to seek their young 'brides' to the unsafety of its capital Manila which to me seemed totally off limits. Still having these doubts we decided to go anyway and book our dreamy holiday!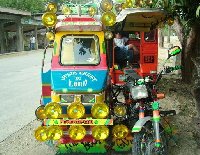 Traditional taxi in Moalboal
Cebu Island turned out to be a true paradise on earth and the word fantastic wouldn't even begin to describe the beauty of this travel destination! Besides the beauty of it all, the waterfalls, the beaches, the wildlife, I adored the locals and their friendlyness. They all treated us with such kindness and hospitaly, I had never met people like that before.