October 11th, 2009
After a 22 hour bus drive from Broome we arrived in Exmouth were we stayed for 2 days. This is the first spot where we litterally saw the emus and kangaroos walking around town!
We went on a tour through the Cape Range National Park which was spectacular with wildlife jumping about everywhere! We got some great video's but the zoom on the camera just not shows the beauty of it all..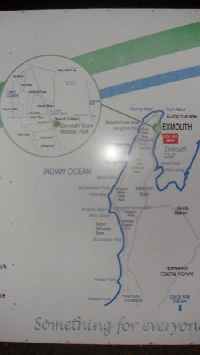 Handy map
Today we went on a snorkellin trip to the Mariyon Islands where we saw some amazing coral and cute fishies.