October 11th, 2009
During our stay in Exmouth we took a tour through the Cape Range NP in the northern tip of the penisula.
The 4wd drive takes you through the national park where emus, kangaroo's, lizards, wild goats and other wildlife can easily be spotted.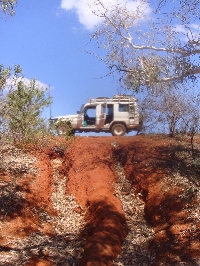 Westtreks 4wd tour from..
We drove through the huge canyon and winded up at the beach of the Ningaloo Marine Park where there was some time for snorkelling and sun bathing. We did the tour with Westtreks Safari's and their driver Mecca is te only tour guide who has a license to drive through this rough area and knows so much about the wildlife and flora of this national park.
We saw a lot of birds and wildflowers and he explained us how the Aborigines used these different sources to their benefit.