November 15th, 2010
This October I finally got to go on my first field trip abroad and went to Istanbul, Turkey.
Eventhough our teachers told us it wouldn't be just a holiday I really enjoyed every single bit of it!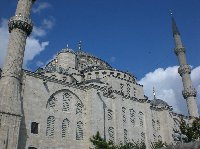 Where to go in Istanbul
I had never been to Turkey and I thought Istanbul was a very beautiful city with nice weather, good food and a lot of impressive buildings.
My friends and I had a lot of fun and eventhough we visited a lot of museum's, mosque's and other things our teachers had planned for us we still think it was a great holiday and can't wait to get back to Turkey. Who knows maybe next summer, if our parents will let us!