November 18th, 2010
Curacao is the best place if your looking for a exotic beach holiday in the Caribbean, simply because the island is gorgeous, the people so laid back and friendly, but you don't pay as much as most Caribbean travel destinations.
Another good reason for me is that the spoken language on Curacao is Dutch since my girlfriend is half Dutch so it makes things a lot easier for us.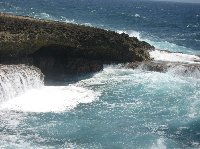 Where to go in Curacao
Curacao is part of the Netherlands Antilles and as a consequence the exotic lifestyle has mixed with some aspects of the Dutch culture like the language and the architecture.
Eventhough the two cultures couldn't be more different I found it to be the perfect combination.
Just take a look at the area around Willemstad's harbor, the beautiful medieval houses that made Amsterdam world famous but painted over in all kinds of sweet and exotic colours to match that real Caribbean vibe and let you know you're in Curacao now!
To enjoy Curacao's beach holiday reputation the only thing you need to do is rent a car, drive across the island and check into your favourite beach resort, because there are plenty!
We stayed at the Chogogo Resort in Jan Thiel Bay, one of the many beaches along the souhern coast of Curacao which belongs to a neighbourhood southeast of Willemstad, the capital city of the island.