December 15th, 2010
My husband and I just came back from a terrific holiday on the island of Curacao. We went there with another couple of friends and had so much fun.
We stayed at the Holiday Beach Resort in Willemstad, the capital of Curacao, and spend most of our time there.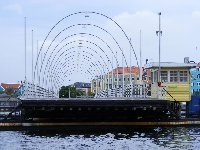 Travel Guide Curacao
We did rent a car for a few days just to be able to see some more of the island because it really deserves a good look around!
The thing about Curacao which made our holiday perfect were the people, so friendly and we felt so happy to be there and share this travel experience with eachother.
The Holiday Beach Resort was located right on the beach, had great staff and the rooms were both clean and comfortable. At night we loved the Bahia area, the harbor and St. Anna Bay, the perfect place for a great night out and the food is amazing.
We found this amazing steakhouse called GrillKing and I must say, their grilled dishes became an obsession, could we only order some more!
Travelling in december like we did also gave us the chance to celebrate a real Caribbean Christmas holiday with Willemstad being all decorated with christmas trees and lights. It makes you question, do we really need all that snow?