November 22nd, 2010
I travelled to Oman earlier this month where I had to be in Muscat, the capital of Oman, for business.
In total I stayed ten days including a weekend off which we could spend sightseeing around Muscat or in whatever way we would like to.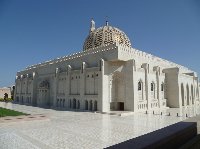 Where to go in Muscat
Together with two of my colleagues I decided to rent a car and make the most out of our travel time in Muscat and at least have some kind of a short holiday while I was overthere.
The rental car was the best idea of the whole weekend and it was so comfortable to not depend on taxi rides of local public transport, which obviously is a lot different in Oman than back home, plus not speaking the language can make things more complicated.
We travelled to some turistic sites in and around Muscat but also tried to see other places like Nizwa, one of the oldest cities in Oman and known for its enormous fort and the beautiful Wadi Ar Rustaq.