December 31st, 2009
Oman is famous for its beautiful beaches, mountains, deserts and wadis. Wadis are valleys where dry river beds can become amazing oasis after heavy rainfall. The panorama at an Omani wadi is never the same as water levels vary and plants and palms go their own way.
It's amazing to be able to witness these natural ponds colouring underneath the sun showing off their blue and greenish colours.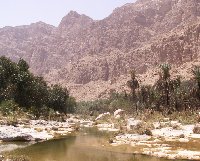 The ponds and mountain view..
At great wadi to visit is the Wadi Tiwi in Muscat. This Wadi is pretty popular with tourists for its amazing water pool that runs into this big mountain. Wadi Tiwi is surrounded by mangroves, palms and fruit trees which are perfect for a bit of shade. Just be careful at the mangroves, you never know what's in there!
You can't go pass the birds that live in the canyon walls. They sure make sounds enough to make your hearing go bad.
You can get to Wadi Tiwi by car but depending on weather conditions you might need a high clearance 4 wd in case of floodings. I wouldn't know about touring coaches going up there because the road to Wadi Tiwi can be pretty narrow but you can always hire a 4 wd with driver in Muscat.
The road to Wadi Tiwi sure is fun..just keep in your seat when other vehicles try to pass:) And don't forget to take pictures, the views are stunning all the way to the wadi.