November 29th, 2010
Maybe out of my entire stay in Australia this November my Whitsunday Island trip was the most relaxing and it would definitely win a prize for the Autralia´s most impressive white beaches!
The boat trip to the Whitsundays itself was amazing and once our group had arrived on the spot everyone just stood there at the end of the boat staring and gazing around, we had found paradise!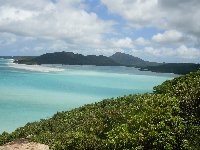 Travel Blog Whitsunday Island
The Whitsunday Island Tour I had booked gave us about an hour or two to spend on the island, bath in the turqoise waters and get our Christmas card pictures ready.
Well, let's just say two hours was more than enough turned out..the next morning I had a sunburn that was so severe I had trouble walking so make sure to go to the Whitsundays but bring protection as well because you don't want any trouble in paradise:)