November 30th, 2010
My wife and myself have just returned from a holiday at the Brayka Bay Resort Marsa Alam in Egypt and had a great experience. The hotel was comfortable, clean and had a friendly staff.
It also had a nice pool, some bars and fantastic food. We had booked an all inclusive package so meals as breakfast, lunch and dinner buffets were included.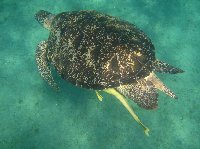 Where to go in Marsa Alam
The staf was wonderfull and explained us all the possibilities of doing tours and recommended us several trips like the snorkelling trip we went on, amazing!
We had snorkelled before but the reefs in Egypt are something else and a great way to spot unique marine life like the dugong we spotted during our underwater adventure.
From our resort in Marsa Alam we also went on a longer day trip by bus to see some of the famous temples. We visited the Valley of the Kings, the Temple of Karnak and the Temple of Hatsheput, all very impressive and under serveillance of a experienced guide.
Back in Marsa Alam we enjoyed our beach holiday to the fullest and combining a relaxing time at the resort and on the beach with the sightseeing tours was good idea because we didn't bore ourselves not even a second!