March 3rd, 2010
I visited Egypt before and spend two weeks in Sharm el Sheik but this trip I wanted to dedicate to a different part of the country. I decided to go to Marsa Alam, an amazing place where you will find a stunning nature and a less chaotic lifestyle.
Personally I prefer my trip to Marsa Alam eventhough I had a great time in Sharm el Sheik. You can do so many interesting excursions and day trips and besides the resorts you can simply enjoy the beach and the scenery.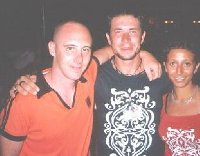 Mao, the guy from the..
In difference to Sharm you won't find a similar coral reef and you will have to swim a bit further from the shore to get to the good part.
You could say there is a sort of hole between the beach and the reefs where the water has an amazing warm temperature and you can relax in the sun.
I decided to book a camel ride into the desert which was amazing and an unbelieveble experience. We visited the villages of the Egyptian bedouins and spend time with them drinking tea and smoking their world famous waterpipe, the narghilè.