December 3rd, 2010
Yesterday my classmates and I went on a field trip to the Niagara Falls which was pretty awesome. The tour was a lot of fun and and we drove up there from Saint Catharines by bus.
I had been to the Niagara Falls before with my parents but I never had been on the actual boat trip beneath the falls so that was really exciting and adventurous.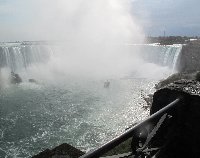 Travel Blog Niagara Falls
The bus ride took about half an hour and we had a special tour guide to fill us in about every single Niagara Falls detail which was interesting but still the boat ride was the best part!
After our afternoon spent at the Niagara Falls we all voted to have dinner at the Hard Rock Cafe, a perfect day!