March 2nd, 2011
Me and my boyfriend love Santorini and go there at least once a year to celebrate our anniversary, which might sound tacky, but we met on this gorgeous island five years ago and have alway had a great time there.
In our case the island of Santorini forms the perfect destination for a romantic holiday but just like when I came here for the first time with friends thousands of people come here every summer to party and relax so anyone could come!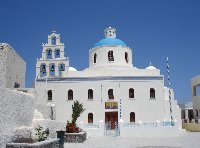 Vacation in Santorini
There's something magical about this place with the charming white houses, pittoresque villages and amazing seafood and other local cuisine specialties.
If you're looking for a special place on Santorini to take your loved one to think of Amoudi Bay of Oia which is simply stunning around sunset.
There are many restaurants to choose from like Kyprida Restaurant which is delicious and has an outstanding view that will blow your mind. Come to Santorini and you will head to this pearl of Greece every year like we do:)