March 2nd, 2010
Santorini is a very beautiful place and an ideal travel destination for couples looking for a romantic getaway. The island itself isn't that big and you can easily drive around it on one of the rental scooters.
The capital of Santorini, Oia, is famous for its breath taking sunsets and you can't leave this island without fotographing this natural phenomena.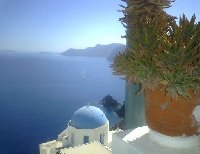 Photos of Santorini in..
Also during the day it's one of the most stunning places as you can see the golden light rays of the sun reflect off the beautifully painted white houses. The blue chapels just seem to collide with the intense colours of the sky, amazing!
But Santorini isn't just about the great weather and you will find a lot of entertainment too. There are plenty of nice bars, great restaurants and enchaunting places to visit.
For those who don't intend on climbing up the million steps to get to the different sights, there's always the loyal mule willing to give you a ride up the hills of Santorini.
You won't find any sand beaches on Santorini as it is a volcanic island and all the coastal stretches are made out of little rocks. The water on the other hand is truly amazing and crystal clear.
I would definitely recommend Santorini as a honeymoon travel destination or a romantic getaway for couples in general because it really is a gorgeous place.