February 9th, 2010
Santorini is small volcanic island group situated in the southern parts of the Aegean Sea. The beauty of Santorini is hard to describe and it is real magical place. Looking out over the bay of Santorini you will see different smaller volcanic islands constructed by the lava floodings of earliere eruptions.
Today the largest formation is the island of Thira where the municipality of Thira was contructed and most of the development has taken place. Thira is known for its beautiful white houses, orthodox churches with the stunning blue chapels and decorations. In the little village of Firostefani you will find Santorini's catholic church and numerous boutiques where you can purchase some of the most beautiful jewelry. You will find these shops along the island walls which protect the village's borders from a height of 400 meters.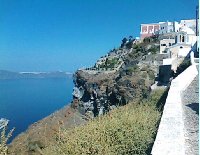 Panoramic view Santorini,..
The characteristic streets and alleys of Santorini turn the island into one magical labyrinth and leading you all around the villages of Thira. You will find these typical streets around Firostefani, Imerovigli, Pyrgos and especially within the community of Oia.