December 29th, 2009
From Eden on the New South Wales coast we went back inland to visit Australia's capital Canberra. Canberra is the politic heart of Australia and amongst the city's major attractions are the new and old Parliament Houses.
The Parliament House is located on Capital Hill in southern Canberra on the other side of Lake Burley Griffin. You can reach the Capital Hill area by car driving south from town over Commonwealth Ave.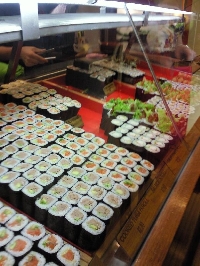 Sushi @ Canberra Centre
In Civic, Canberra's main shopping and dining area you'll find all kinds of eateries, shops, cinemas and nightclubs. The Canberra Centre shopping mall is also located in Civic and you can find a large range of boutiques, bars and restaurants inside this big complex.
Just outside the Canberra Centre there are lots of restaurants as well to choose from. We had dinner at a place called Cream on Genge St which was really good. We had a roasted vegetables salad, seafood linguini and a plate of turkish bread with home made dips. All very good. The personell was also friendly and helpful as they helped us to organise the rest of the evening.
We wanted to come back later and have a drink in Civic by car but they advised us to take a cab from or accomodation to the centre as it might not be save to leave your car late at night.
Around 10 pm we ordered a taxi from our hotel and had a drink at Tongue & Groove. While this place is open for lunch and dinner during the day it serves great cocktails later at night. Try their Lime Caprioska, its really good!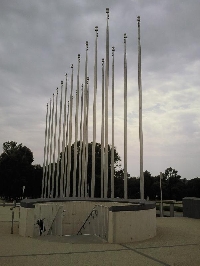 The Parliament House,..
They also had a live DJ and turned a part of the dining area into a dance floor. The music was good and we danced untill around 2 am. To get back to the hotel we just hopped on a taxi across the street.
The next morning we were lucky enough to catch the sunday Old Bus Depot Markets in Kingston. The markets are open every sunday from 10 am and are a good way to meet some locals and check out the local products.