April 6th, 2010
Finding all the different license plates of the different states had become my own little obsession during my trip through Australia and crossing a state border was never so exciting!
Australia has 6 states, plus the capital state of Canberra and all these states, Western Australia, Northern Territory, South Australia, Victoria, New South Wales and Queensland have their own or more license plates.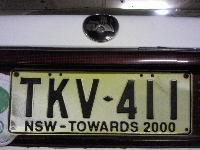 New South Wales, Towards..
Of course Tasmania joins the group with a plate of their own. The first one I spotted was the Western Australia license plate but the one I found didn't have the usual slogan.
From WA I travelled to the Northern Territory, the outback state. After an intense week in the centre of Australia the road continued to South Australia, The festival state, Victoria and Canberra, the most creative state in the license plate industry I can say!
Victoria on the Move and Victoria the Place to be were replaced by Canberra the heart of the Nation, Canberra the Nations capital and Canberra Celebration of a Century.
I also found Tasmania Exploring the possibilities and the easy going New South Wales towards 2000. The roadtrip ended in Queensland or like I should say the smart, sunshine state!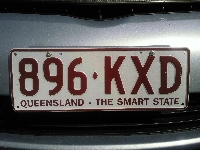 Queensland, The Smart State..
It was an amazing journey along deserted highways, red desert sands and beautiful cities like Perth, Adelaide, Melbourne, Sydney and Brisbane.
Driving through Tasmania really felt like travelling in a different country and I would recommend adding this 'island' to their Down Under journey.