April 21st, 2011
Cusco, the capital city of the Inca´s Empire still holds many secrets within its stone walls and wonderful colonial buildings. One of its most beautiful misteries is, without a doubt, the citadel of Machupicchu, considered today one of the seven wonders of the world.
Inca Trail to Machu Picchu
This is the most famous and best kept route from the thousands of kilometers of trails that integrated ancient Tahuantinsuyo.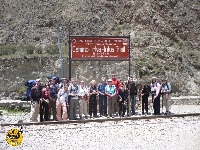 The start of the Inca Trail..
Its starts at kilometer marker 82 of the railroad Cusco-Machu Picchu and continues along 40 km until it reaches the archaeological complex. Its geography is rough, but it offers the tourist some of the most outstanding landscapes in the area, among forests, ravines and snow capped mountains.
Trekking through it requires at least three days. Visitors are recommended to spend some days in the city of Cusco before starting the trail so that they can complete it without problems.