May 19th, 2011
From Dambulla I took the train to Kandy one the larger cities of Sri Lanka and also a former ancient capital. The train ride entering Kandy was beautiful because the city is located in the hills crossing numerous exotic tea plantations on your way.
In Kandy you will definately visit the Temple of the Tooth Relic which is an enormous temple complex and a very important religious site to Buddhists from all over the world.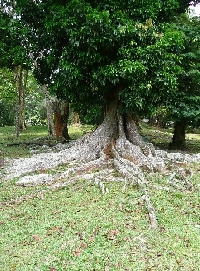 Where to go in Kandy
For tourists coming to Kandy it is probably the most popular attraction to visit. The temple known for the tooth sanctuary where the relic of the tooth of Buddha is being kept is located withing the royal palace complex surrounded by the beautiful Royal Botanical Garden of Peradeniya and is really a place of worship and serenity.
The temple complex is so large that you will want to dedicate an entire day of sightseeing to visiting the royal palace complex and the surrounding gardens. You might also want to enjoy the panoramic view from Royal Palace Park overlooking both the temple complex as Kandy Lake.
Kandy has a pretty good public transport service and by bus is a great way to travel. From Kandy I hopped on a bus to the Pinnawala Elephant Orphanage on the Maha Oya river.