October 31st, 2011
The Temple of the Tooth Relic or Sri Dalada Maligawa in Kandy is one of the most visited temples in Sri Lanka and you will experience just how special this place is when you look out over the Kandy Plateau with its gorgeous hills.
I decided to join a temple tour to fully enjoy my experience in Kandy and learn something more about buddhist values and believes.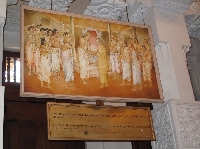 Where to go in Kandy
The Temple of the Sacred Tooth Relic is located within the royal palace complex and houses the famous Relic of the tooth of Buddha but this certainly isn't the only drawacard of the complex so spending a day here to tour around and visit all the different buildings and museums is a great way to discover Kandy.
For example, you could visit the National Museum of Kandy and take a look at jewelry, tools and other artifacts from the Kandian era.
Besides Sri Dalada Maligawa I loved Kandy Lake which adds something mystic to the city of Kandy which originally was places in the midst of a very hilly and thickly forested area. The decision to artificially add this lake to the city surroundings was a great idea if you ask me!
I stayed at the Hotel Suisse Kandy which was a great base from where to explore Kandy and I would recommend this hotel to anyone visiting Sri Lanka and planning on coming this way.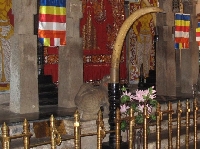 Where to go in Kandy
From Kandy I travelled a lot by train and continued my way to the southeastern part of Sri Lanka heading first to Dambulla where I had planned a visit to one of the many tea plantations this region is known for.