May 27th, 2011
From Kandy I travelled down south further into the Central Province and my next destination was Nanu Oya a small village with an important train station.
From Nanu Oya station it will take you less than ten minutes to reach Nuwara Eliya also known as the City of Light and the most important location for tea production in Sri Lanka.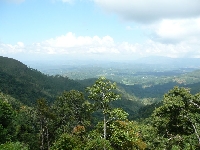 Travel Experience Nuwara Eliya
I found it really nice to take in some of that natural beauty after a stay in one of the largest cities of Sri Lanka and instead of touring the chaotic streets of Kandy I laid back and looked out of my train window while I enjoyed the most scenic tour of all times.
The tea hills country of the Central Province in and around in Sri Lanka inspired me to visit a tea plantation and learn more about local production which was a memorable experience. Nuwara Eliya is also home to some spectacular water falls.
If you are travelling to Nuwara Eliya in April make sure to book your accomodation ahead because of the Tamil New Year and the Sri Lankan holidays. I stayed at Genuine Humbugs which I will recommend for the amazing garden surrounded by misty mountains rising up from the valley it seems. The rooms are clean and the food served in this family-run inn is fantastic.