November 7th, 2011
By train I had made it to Ohiya and eventually also to Nuwara Eliya where I had come to visit the Horton Plains National Park located in the central highlands of Sri Lanka before returning back to the coast at the end of my journey.
The Horton Plains National Park is the main tourist attraction of Nuwara Eliya and for most people it forms a base before heading on a tour to the park or travelling in other directions.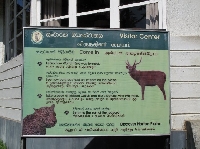 Vacation in Nuwara Eliya
Besides the park you can find some other interesting places to visit like the botanical gardens and maybe the Hindu Hanuman Temple but for me two days spent at Nuwara Eliya were more than enough and spending the first to visit the park and the second to rest was perfect.
My Horton Plains National Park tour was amazing though and it was a good way to explore Sri Lankan wildlife. You can actually spot a Sri Lankan sambar deer on one of my pictures! The beautiful Rhododendron Arboreum trees are one of the park's best decoration pieces and they are really beautiful.
After my visit I headed back to the Galway Forest Lodge where I stayed during my time in Nuwara Eliya and I prepared myself for my next travel destination: Hikkaduwa on the south coast of Sri Lanka north of Galle.