December 19th, 2009
Hervey Bay is the best point to prepare a trip to Fraser Island and a great tour operator is Fraser Island Explorer if you're looking for a good day trip. We picked up their brochure after reading about them in the Lonely Planet and didn't regret booking it. At first we had some doubts about going on a day trip or staying a few days on the island but once we got to Fraser Island we were so happy to have chosen the day trip.
Fraser Island is gorgeous but public transport is completely absent and the only way to get through the island is by a high clearance 4 WD because not only are all the roads unsealed but they actually consist in mull sand and even the enormous tour trucks got stuck during the day.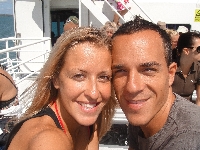 On the Ferry to Fraser..
Luckily ours didn't and we had a lot of fun during the bumpy ride while spotting other less fortunate fellow travellers..:)
The tour is just perfect and takes you along all the major attractions that Fraser Island has to offer. From the ferry dok in Kingfisher Bay we headed to the Wanggoolba Creek for some walks through the rainforest alongside the transparent creek. We tried to spot the wild dingo, native to Fraser Island, but we only got to see some lizards and lost birds.
After that stopover we headed to the Eurong Beach Resort for some lunch which was included in the Fraser Island Explorer Day Tour. The Eurong Resort looks like a little western town with its own gas station, bakery and souvenir shop and the guide will give you plenty of time to explore the resort and do some shopping.
The resort is located on the Seventy-Five Mile Beach and after lunch the tour proceded with a ride on the long stretched white sands driving up to Eli Creek.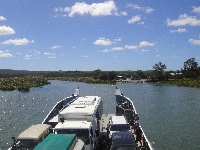 Departures for Fraser Island
This amazing creek is formed on the beach and has formed a sort of lagoon for passing tourists and locals to swim in and cool off. After a half an hour break we moved up to the Moheno Shipwreck and the coloured sands of the Pinnacles more up north the Seventy-Mile Beach. For those interested there was also the possibility to observe the island from a birds eye by taking a scenic flight (15 minutes, 70 AUD pp) but for us the bus ride through Fraser ocean's waves was scenic enough:)
From the beach we made our way through some thick rainforest to get to Fraser Islands most popular and amazing attraction, Lake McKenzie. The place is simply breathtaking and just as beautiful as the postcards promise you.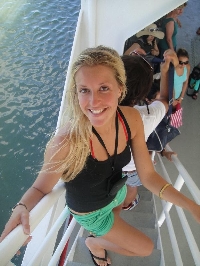 Getting off the ferry @..
We stayed here for quite some time to relax and take in the stunning views untill everybody was ready to head back home.