August 12th, 2011
From Tibet I drove into the Central Region of Nepal to spend another two months exploring different cities.
One of the first places I encountered was Bhaktapur not too far from Kathmandu and reached by driving down south the Araniko Highway and the Arniko Highway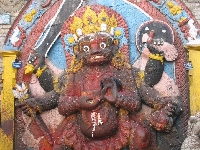 Trip to Bhaktapur
From Bhaktapur I visited Kathmandu and Patan the two main surrounding cities to its west.
Tourists who usually stay in Kathmandy which is the capital city of Nepal take a day trip to Bhaktapur or Patan to have a sniff of true ancient culture before heading into the mountains.
The Central Region of Nepal has a lot of great trekking destinations to offer like the Annapurna trail but also Langtang to the north bordering Tibet with its beautiful Gosainkunda Lake and curious wildlife. I strongly recommend the ten-day Gosainkunda Lake trekking with overnight stays in simple hostle like accomodation (see pictures).
The Chitwan Valley is also particularly stunning with its green rice fields and of course Nepal's first national park; Chitwan National Park where you can do amazing wildlife safari tours to spot the tiger but also crocodile and rhino.