September 29th, 2011
I also did a tour through the Nazca Valley with a tour operator called Taruka Tours and we paid a visit to the scary Chauchilla Cemetery.
The site lies within the Nazca Valley and the only to reach it will be by tour or driving there yourself but since the terrain is pretty rough you will find the tour much more pleasent and less rocky.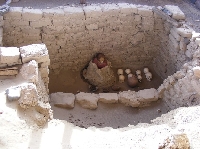 Trip to Nazca
The cemetery which contains real mummified human remains which are remarkably preserved beacause of the dry climate in the Nazca Valley but unfortunately most of their burial gifts like pottery were robbed out of the graves by local thiefs.
Today you can get a tour of Chauchilla for a couple of dollars and eventhough a bit scary it will teach you a lot about peruvian traditions and history of this part of Peru. Of course the main tourist attraction in the valley are the Nazca Lines and you could combine both visits on one tour if you'd like to see both.