June 1st, 2012
A great way to travel in France for example between cities is by train as the service is great and usually the train stations are located really well. Since I had travelled to Paris several times arriving at Paris Gare du Nord station I decided to travel to Marseille by train as well.
I arrived at Gare Saint-Charles in Marseilles which is located in the 1st arrondissement and forms Marseilles main railway station. From here you can get to Nantes, Toulouse, Bordeaux and many other places all connected by regional trains.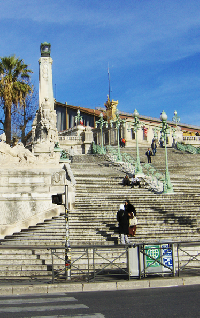 Tourism Marseille
I instead headed to the center of Marseilles for a nice lunch at one of my favorite places: Vinoneo!
Vinoneo is a cute and small bistro in the second district of Marseille, near the oldest part of town: le panier. You can either sit outside on the terrace or lunch inside. The menu is really tasty and the organic wines are amazing!The atmosphere is warm and pleasant.
As for places to visit during your time in Marseille I would say that the view from the Vieux-Port towards Notre-Dame-de-la-Garde is priceless and one of the best parts of the city.