June 1st, 2012
If you wan't to visit Versailles you can plan a day trip from Paris to visit the palace and its incredible art collections.
We found a tour on the internet with Leftbank Scooters which had arranged an entire day tour to Versailles from Paris in vespa!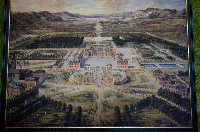 Travel Guide Versailles
This was a suprise from my fiance and it really was a unique way to explore Versailles and spend a day of sightseeing outside of Paris which obviously is just as gorgeous but since we had an entire week it was fine for us this way.
The Hall of Mirrors is so impressive and this central hall of the Palace of Versailles will leave you dreaming!