June 1st, 2012
The Champs-Elysées area in Paris is the best place to go for lunch, shopping and great sightseeing. The Champs-Elysées seen from the Arc de Triomphe is really something else and the view of the Avenue des Champs-Élysées running through the 8th arrondissement in northwestern Paris is beautiful.
Shopping along Avenue des Champs-Élysées is great and besides souvenir shops which are to be found on every corner in Paris you will be able to splurge on gorgeous designer goods from Louis Vuitton to Chanel to Yves Saint Laurent, they are all to be found here!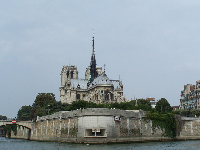 Travel Experience Paris
Of course there are many other sights to visit such as the Louvre and the Tour Eiffel so make sure to book at least 5 days in Paris so you can enjoy this incredible city to the fullest!