December 30th, 2009
The Tasmania Zoo is Launceston is one of the famous breeding grounds for the Tasmanian Devil. Not only can you come and watch the devils in their natural habitat but you can also get to witness the Tasmanian Devils at feeding time.
The Tasmanian Devil Feeding Times are 7 days a week at 10.30 am, 1 pm and 3.30 pm. At these times you can not only witness the feeding but also get the chance to pet a Tasmanian Devil or even hold one!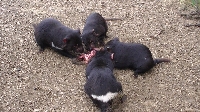 Tasmanian Devils in their..
The Devil Heaven in Launceston is the world's largest private breeding programme and at the Tasmania Zoo you will be able to get to know this Tassie animal in and out.
Besides the devils there are penguin feedings at 10 am and 4 pm as well. Furthermore the Tasmania Zoo proudly owns over 80 species of birds, koala's, wombats, quolls, emus, kangaroos, monkies, deer, reptiles, crocodiles and alligators.
To get to the Tasmania Zoo in Launceston you can either drive yourself or book a bus service which leaves the Launceston CBD twice a day. 9 am and returns at 12 pm or 12 pm and returns 3 pm.
You'll find the zoo on 1166 Ecclestone Road, Riverside, Launceston and for more info you can call ph: 63966100