January 1st, 2010
Siena is known for its long horse race tradition and every year the palio is held on the 2nd of july and the 16th of august. Not knowing this we were quite lucky to arrive in Siena exactly on august 16th.
During the Palio ten of the seventeen contrade or suburbs are represented by their riders and horses which carry the flag of their contrade and are dressed in the same colours.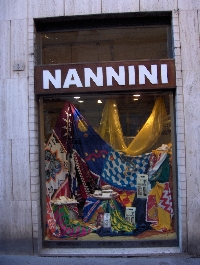 Palio flags for sale in..
Tourists and locals all gather on Piazza del Campo which turns into one big horse racing with the public cheering at the riders from the middle of the square. The riders circle around Piazza del Campo three times at high velocity and the jockeys risk of getting thrown of their horses.
The winning horse represents his contrada and will be treated like a king. The rider also earns a lot of credit but the real victory is for the contrada he belongs to.
Walking through Siena its easy to recognize the different contrada's as they all have their flags and street symbols which read their name. The 17 contrade are: Aquila, Bruco, Chiocciola, Civetta, Drago, Giraffa, Istrice, Leocorno, Lupa, Nicchio, Oca, Onda, Pantera, Selva, Tartuca, Torre and Valdimontone.
During the days after the palio the streets of Siena are filled with celebrating people from the winning contrade.