January 3rd, 2010
The Grand Canyon National Park in the state of Arizona is one of America´s most famous and popular national parks. The Grand Canyon National Park stretches over more than 440 km and has some amazing rock formations and gorges.
These gorges were carved out by the floodings of the Colorado River which meandered through this area long before European immigrants made their way to the U.S and when the Native Americans inhabited the Grand Canyon region.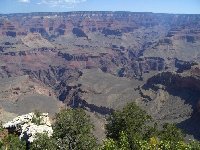 Panorama of the Grand Canyon
Today the Grand Canyon is one of the worlds most important tourist attractions and a lot of people make sure they include a visit to this beautiful park while they´re on a holiday in the United States.
You can take some fine pictures from the Grand Canyon Skywalk or take part in some of the more adventurous activities like white waterrafting, hiking or maybe taking a helicopter tour around the canyon.
For those who don´t feel like walking there is the Coconino Canyon Train which takes visitors through the national park for a 90 minutes during tour.
Eventhough the weather in the Grand Canyon can lead to extreme conditions where dehydration, sunburn or hypothermia are some of the side effects there are enough animals that call the canyon their home.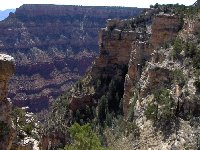 The Grand Canyon NP day trip
The cute squirrel on one of the pictures is frequently spotted in the national park but you have to hurry if you want a good photo:)