January 13th, 2010
Having our home base in the city of Flagstaff in the state of Arizona the area around us was an amazing opportunity to explore the national parks and canyons in direction of the Utah border.
At the top of our list were the Grand Canyon National Park and the wonders of Monument Valley on the southern border of Utah with the northern parts of Arizona. This valley has an amazing setting and rock formations that are beyond wild western immagination.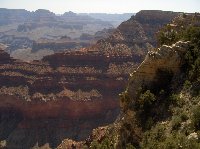 Pictures of the Grand Canyon
Both the Grand Canyon as Monument Valley are situated in the region of the Colorado Plateau which has the widest range of national parks in the United States. Another park we visited and which belongs to the Colorado Plateau is the Bryce Canyon National Park in the southern parts of Utah.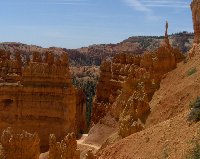 Grand Canyon National Park
The Bryce Canyon is completely different from the Grand Canyon in its form and is also referred to as a concentration of rock formations displaying a natural amphitheatre and if you would analyse the the area's sculptures this comparison is exactly right. The only thing missing would be a group of Roman actors fighting their enimies in the middle of this gorgeous arena.
The sculptures, also known as hoodoos, have been formed through time by extreme weather conditions and as a consequence of the ice and rock erosion from the riverbeds. The colours of the rocks turn reddish and all shades of orange and white with the changes of the sun which really turns Bryce Canyon into a magical place.
Monument Valley is known for its sandstone rock formations which pointy tips rising up to 300 meters above the ground form a great contrast with the flat valley beneath. Driving route 163 which seems to flow around these amazing sculptures makes you feel so small and its a good way to take in the greatness and beauty of this area. The Monument Valley Navajo Tribal Park is located here as well and inside the park you'll find a visitors centre with an adjacent restaurant and gift shop. From this Visitors Centre tours can be arranged and they will be able to give you all the information you need about the Monument Valley area.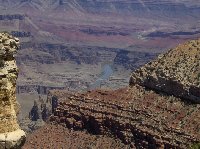 Looking out from the Grand..
Canyons of all Canyons, The Grand Canyon and the Grand Canyon National Park remains one of the most popular touristic park attraction of the Colorado Plateau and the United States as a bigger whole.
Most legendary must be the construction of the Grand Canyon Skywalk which enabled tourism to grow even more in this area and attracted milions of tourists over the years. From 3600 ft you're now able to watch in the main canyon of Granite Gorge where the Colorado River flows.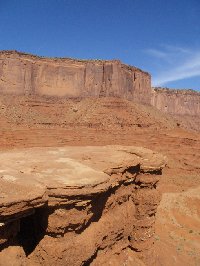 Looking out over Monument..
For the more adventurous there are activities in the Grand Canyon like hiking and whitewater rafting.