January 4th, 2010
One of Buenos Aires most fascinating districts must be La Boca, the neighbourhood where all the Italian immigrants settled and today famous for La Bombonera, the home of Boca Juniors, one of the worlds best football clubs.
La Boca is popular with sports fans but also with the main stream tourists who are attracted by the colourful houses and the Caminito, the pedestrian street where tango dancers show their moves to the public. The neighbourhood is filled with tango clubs and Italian eateries but you'll also find other European influences as the multicultural society is build by German, French, Spanish, Arab and Basque immigrants as well.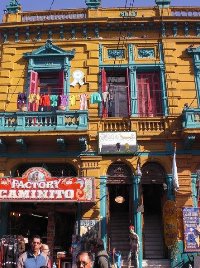 Pictures of La Boca in..
Not only La Boca is known for its tango performances but you'll find artists in other neighbourhoods like San Telmo too.
In front of the football stadium ther are the Museo de Quique and some fan stores where you can pick up some nice souvenirs.