January 4th, 2010
From Puno in Peru we went on a boat trip over lake Titicaca where we saw the floating islands. These islands are made out of bamboo and so are the little houses constructed on these floating panels.
The Titicaca Lake is situation on the borderline between Bolivia and Peru and is one of higest commercially navigable lakes in the world. While the westen part of the lake lies in the Puno region in Peru, the eastern side belongs to the Bolivian La Paz region.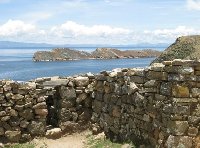 Ancient Inca Ruins on Isla..
The artificial islands on the lake have become a major tourist attraction in Peru and lots of people cruise to these floating reeds.
One of the bigger islands on the Bolivian side of the Titicaca Lake would be Isla del Sol which can be visited from the town of Copacabana. Even if the name sounds rather exotic, Isla del Sol is pretty rocky and dry with lots of hills and not your no 1 holiday island. Eventhough the people here depend a lot on the touristic sector as their financial resource Isla del Sol is primarily a farming and fishing community with very little development.
The main draw card of the island are the ancient Inca ruins. Famous are the Sacred Rock and the Chicana which looks like an old labyrinth.
Back in Copacabana we decided to take a break from all our outdoor activities and just enjoy the Peruvian way