August 3rd, 2010
We left the volcano landscape and the Colca Canyon behind to continue our road trip to Puno and the floating island of Lake Titicaca.
The Uros people of Puno are the habitants of the floating islands and take care of over 40 floating islands, all accessible by boat from Puno.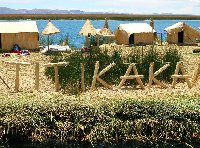 Vacation in Puno
A visit to the floating islands has become a very touristic and almost tacky thing to do but of course I wanted to see these islands for myself and see how the Uros people live.
After we had arrived in Puno and brought to our hotel by riksja in the pouring rain we decided to call it a day hoping the weather would treat us better the next day. Luckily it did so we could go on our Lake Titicaca tour.
It was amazing to see how the Uros people had contructed an entire island community of reeds construction boats, houses and even towers to look out over the lake. Also they were very welcoming and we were even spoiled with a welcoming dance by one of the little girls.
The women were all dressed in these gorgeous colourfol clothes matching the pom poms braided in their hair, beautiful. They even made me try a dress on! The floating island of Puno might be a touristic drawcard that has become a bit too popular but I'm gladd I didn't miss out on the Uros experience!