January 9th, 2010
Every year the city of Deventer hosts the Dutch Charles Dickens Festival and attract tourists from all over. Even locals find it hard to get into the gates of the Wallstraat, the festivals main street and have to line up with the rest.
This year the festival was held in extreme weather conditions and at a certain point even the thermometer lost track at minus 13! While some people decided to skip the cold others made their way to the Bergstraat, Walstraat, Prinsenplaats, Golstraat, Roggestraat, Kerksteeg, Menstraat, Bergschild which all were filled characters from the famous Charles Dickens story's.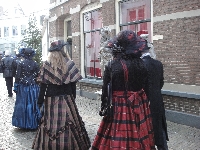 Actors during Charles..
The centre of Deventer went back in time for two days as soldiers, sheep, convicts, drunkards and fair ladies walked to the snow white streets shouting for womens rights, asking some money to buy food or declaring the war.
Alongside the road the Medieval St. Lebuinus church was turned into an old grave yard covered in snow and theatral shouts for justice with on the background the sound of street artists playing their violins.
For the hungry and thirsty, characteristic food stalls offered warm drinks, gluhwine and some hot waffles to cover the pain of the cold wind penetrating even the thickest gloves.