January 30th, 2010
Espargos is located in the heart of Sal in Cape Verde and known for its brightly coloured houses and friendly locals. Espargos is connection with the city of Santa Maria to the south, Palmeira to the west, Pedra de Lume to the east and Reguinha de Fiura to the north.
Espargos, also known as Villa dos Espargos, is the commercial and political centre of Sal. Other important activities include fishing and the salt collection industry.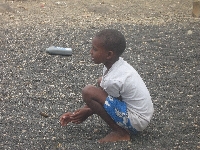 Little boy in Espargos, Cape..
Most of the tourists that come to Espargos have their base in Santa Maria and visit during a day trip. Espargos itself has some hotels, restaurants and bars but the main touristic developments have taken place in the south of the island.
When we arrived by touring coach the children of Espargos soon formed a group around us asking for pens and sweets. It was hard to get reality thrown in your face like that and all of a sudden you realize how privileged you are to be able to do the things you do everyday. The children had such joy while playing and making fun of us and each other, I don't think I've ever saw kids being that happy in my life.
These children grow up in such an adult world where they are growing up so fast it was nice to see them just playing like kids are supposed to.