January 11th, 2010
Perth is a great city for a relaxing holiday in Western Australia. The city centre is filled with nice bars and shops where you could easily spend an afternoon of shopping and sightseeing.
A must see in Perth would be the beautiful Kings Park and botanic garden situated on the city's hill top. Not only is this park great for a walk or picnic but probably also the best place to view the city skyline. The Lottery Federation Walkway will allow you to walk through the parks forest over a glass bridge at the height of the tree tops. From the walkaway you will be able to see the rivers come together in the bay of Perth. You'll also find some great Aboriginal story telling signs and a rare collection of enormous boab trees at the entrance of the bridge.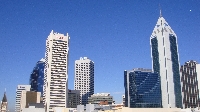 Perth seen from Kings Park
The park has a large parking lot and can easily be reached by car but for the more adventurous there is also a possibility to rent a bike and cycle along the river on the esplanade up to Kings Park.
The river area is beautiful and from here you can catch a ferry if you want to visit Fremantle, the old prisoners town. If you're lucky you might even catch some wild dolphins on the river banks! Here you will also be able to see the Swan Bell Tower famous for it's 14th century royal English bells.
At night the streets adjacent to Barrack St have plenty of things to do and on Hay and Murray Sts you'll also find the town cinema's and the bigger shops that remain open untill late. A good alternative for nightlife would be the neighbourhood of Northbridge which has a wide range of restaurants, bars and clubs and is a popular pick with young people looking for some late night action.