January 13th, 2010
A lot of tourists coming to Port Macquerie visit the Koala Hospital to learn more about the koalas, support the good work the volunteers do here and maybe even see one of the baby koala's of the park.
The Koala Hospital does great work and takes cares of koalas hurt during bush fires, road incidents or dog attacks. Walking through the koala park we met several koalas who all have their own seperate space and receive great care. Each koala is known by name and gets special care and treatment and tourists who want to support the koala hospital can even adopt a koala.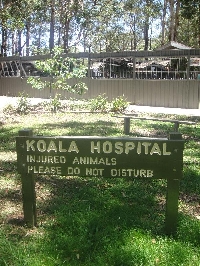 The Koala hospital in Port..
At the time we visited the koala habitat their were several baby koalas and we could freely take pictures of the animals. Some of the smaller koalas were placed in a more isolated habitat where they received special attention from the park care takers.
Every Koala has its own story which is often linked to the name teh hospital has given them. For example koala Bonny Fire was saved from a bushfire in the Bonny Hills. Also baby koala Cloud was saved from the Christmas Bell Plain bushfires. Clouds stayed for several years in the koala hospital untill she died in 2007 and you can still find her memorial in yard 9 of the Koala Hospital in Port Macquerie.
There is a large information centre adjacent to the different yards and the souvenirs sold at the gift shop all contribute to the care for the koalas. In front of the gift shop you will find a big board with the names of all the mature and baby koalas resident to the park and you can read about their status, the progress they are making and which treatment they get.