January 13th, 2010
Port Macquarie is the excellent place to go for a camel ride and the camel safaris on Lighthouse Beach are one of the best around. Not only is the beach beautifully located with almost no tourists around but also the camels are really well trained and will help you to remember this great ride on along the coast.
We went on a ride with Port Macquarie Camel Safaris and met the camels on Lighthouse beach. These camel rides leave everyday between 9.30 am and 13 pm.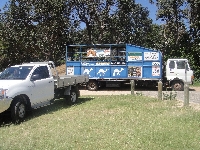 The Camel truck
My camel just kept on posing for the camera which was so funny so I was able to take some pictures from head to camel toe:)
The beach rides will entertain you for about 20 minutes and cost 20 AUD pp which isn't much and we saw brochures where price were double. Especially the camel rides in Broome, Western Australia, will cost a bit more because they take you up popular Cable Beach.
At first we wanted to do the camel ride here but didn't have enough time when we were in Broome. Must say the beach in Port Macquarie was beautiful as well and we had a great time with the camels.
You'll find Lighthouse Beach on Matthew Flinders Drive and the camels are at about 1km south of the local Surf Club. You can give them a ring on phone number : 0437672080