February 1st, 2010
Fremantle is a nice place to visit when you're in Western Australia and especially from Perth it's a good day trip. From Perth you can simply hop on the ferry all the way to Fremantle and spend the day there.
Fremantle has a long prisoners history and its main touristic attractions today are the Fremantle Prison, the colonial buildings and of course the Fremantle Markets.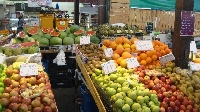 Fresh fruit on the market
You will find the Fremantle Markets on the corner of Henderson Street and the Cappuccino Strip on South Terrace famous for its many bars and restaurants. The markets are open Friday to Sunday and are a great way to taste and see some of the local produce from home made honey to fresh fruit and oven baked muffins.
The Fremantle Markets are also great for souvenir shopping and you will find all kinds of things to bring back home from aboriginal art to fake sunglasses and printed t-shirts. The best part for me remains the fruit market where you can get some of the freshest products for a good price.