February 1st, 2010
The town of Fremantle is known for being a former prisoners town an even if the Fremantle Prison today might be a popular touristic attraction for many years it was one of the most cruel places of Australia.
The Fremantle Goal was built entirely by convict labour in the late 1800's and only closed in 1991. Considering the harsh treatment for the prisoners it is hard to believe this institution lasted as long as it did. Through the years many convicts had tried to escape the prison but only six ever made it out of the country.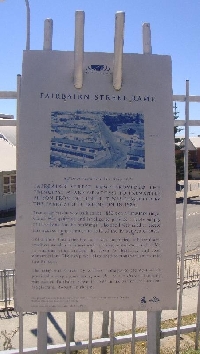 The entrance of the goal
Today the Fremantle Goal can be visited daily and tourists can even take tours into the cell blocks. For the real adventure seekers there is also a night tour available.
Besides a touristic attraction the goal has turned into a public museum where visitors can see the artefacts made by the prisoners during their captivity. There are several information panels, old diaries, sports items, costumes and even some ropes used by the best escape artists.