February 5th, 2010
Cape Byron is Australia's most easternly point and a great place to look out over this seaside town. From town you can drive up to the Cape Byron Lighthouse but the best thing to do is to park your car at the parking space down hill. You might have to walk 2 minutes up hill but parking up hill on the Cape Byron Lighthouse ground will cost you 7 dollars if you're by car and 3 dollars if you want to park a motorcycle. This 5 star parking space is open from 8 am and is watched by a real guard though..
Once on Cape Byron the views are amazing and you will be able to see the entire coast line of Byron Bay and even the surfers on Main Beach. The cape is also a popular spot with adrenaline seekers and you will see a lot of kites on the water and in the air. Especially hang gliding over Byron Bay is very popular which will cost you about 100 AUD for 20 or 30 minutes.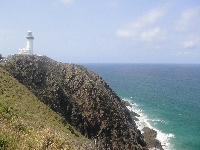 Australia's most easterly..
Most tourists drive up here to see Australia's most powerful and easterly lighthouse which leads you along a rocky path into the Cape Byron State Conservation Park and the famous Captain Cook Lookout. To get all the way to the most easterly positioned rock seemed a bit too much so we decided to admire the view from the lookout.