February 14th, 2010
My trip to Tunisia was great and travelling with four of my friends I was in great company. We stayed in a touristic resort which normally isn't my favourite accomodation type because people tend to get stuck in there and forget about exploring the real culture but in the end we had a great time!
We visited the local market in Houmt Souk, the market neighbourhood of Djerba and spend a night out dining in a very nice restaurants decorated with colourful pillows. Of course we had to taste the local waterpipe or narghile which was really good. We also tried the local Tunisean tea which is a bit strong and the combination with the narghile knocked us out for a few hours. The coffee on the other hand wasn't as tasty but the atmosphere of the place made up for that!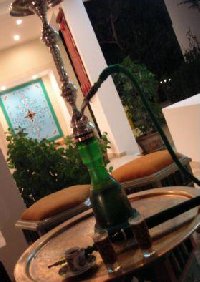 The Tunisian narghile..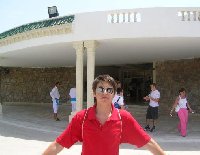 Photos of holiday in Tunisia
The beach in Djerba is stunning and the white stretches of sand seem endless. You could easily walk for hours or spend your day lying on the beach working on that perfect tan! Djerba is a great mix of tranquil places where you could stay during a relaxing holiday but there are also places where you will be able to dance the night away and have a wide variety of bars and night clubs.
The only thing that really disturbed me in Djerba was seeing how some of the locals were treated by the resorts security guards. You could see expensive sports cars driving in front of the resort where children without shoes were playing around. Sometime the guards even told them to get away from the hotel area which to me was just horrible and I didn't feel at ease at all experiencing these class differences.