February 16th, 2010
From 2001 to 2004 I worked on the Greek island of Crete and I can say that living on this beautiful island for three years has been the experience of a lifetime!
When I arrived in Greece I hardly knew anybody which made it easier for me to go out and explore the Greek culture by myself. This has been a really good and unique experience for me.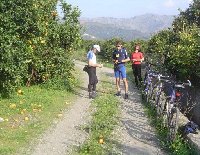 Picking oranges on a cycle..
The three years in Crete were a beautiful part of my life and I really got to know the people. Especially the Cretan people are very kind and generous.
There is a great respect for the old traditions and it's part of their culture to welcome you in their homes so that is also how I felt in Crete, very welcome!
I also met a lot of new people who I now call my friends and am still in contact with.
The best thing about meeting new people like during my stay in Crete is that you look at friendship differenty as you get older and you start to choose people who make you feel good and with whom you have a real connection as your friends.
Besides meeting new people and learning more about the Greek culture I also discovered a new passion for surf, an amazing sport and one of my favourite activities.