March 1st, 2010
I was able to make this trip to Tunisia thanks to a competition held at my high school. I registered for a course of eight months to compete with the other students for the highest score. At stake was a trip of nine days to Tunis, the capital of Tunisia.
Luckily I was selected and so were a couple of my friends. Excited for our first big trip we packed our bags and flew off to Tunisia where we spend an amazing holiday.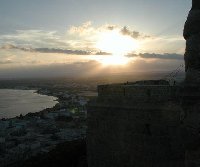 Sunset over Tunis.
The weather was great and the people really nice. The markets where also really good if you wanted to purchase some souvenirs as the prices were incredibly low.
We visited many nice places and had the opportunity to see a lot of the city. A short trip but a great experience!