March 26th, 2010
In March of 2005 I had to go to Iraq for work, on a military mission. Eventhough I had a lot of experience in the field nothing could have prepared me for the total distruction and little resources we witnessed in Iraq.
The people were actually forced to start rob eachother in order to survive and as soon as they saw us coming they started begging for anything from food to clothes.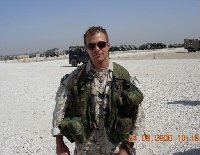 Photos of my military..
The part that shocked me the most was this one time when we went to the people to give them water, foor and other supplies.
After we had given the people their goods they started throwing rocks at us so we had to rush back to our vehicles, I never understood why they did that.
It's not easy to explain the situation of Iraq and the media is making everything worse by transmitting stories which couldn't e further from reality. I really felt like we were considered enemies and not as a group of peole being there to help out.
Most journalists are in Iraq as adventure seekers, of course not all of them, but a lot of the people I saw there didn't make much of a professional impression, after al they make enough money by just being there.
An intense experience, and as far as I'm concern not yet a travel destination.