December 27th, 2011
Last week I had 5 days in Dubai for a conference me and my collegues had to go to and I had a great time. Going on business trips to places such as Dubai is a real treat as it gives you the excellent excuse to spend some time away from the cold winter.
Besides the reason for my going I think Dubai is a great travel destination in general with lots of nice places to go to like malls, markets, beaches and plenty of nightlife and restaurants.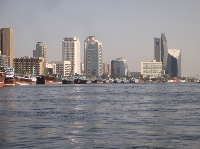 Travel Guide Dubai
We stayed at the Golden Sands hotel apartments where I had my own apartment to share with one of my colleagues, pretty comfortable and the location was top notch!
Prices are reasonable so maybe a last minute to Dubai for New Year's Eve isn't such a bad idea after all:) Happy holidays