April 13th, 2012
So much inspired with Dubai s Local safari tour that I thought to write a post on it.It was our first time visit to United Arab Emirates of Dubai.we had booked a room in Atlantis hotel with amazing beach view and Atlantis seemed to be the best option for a comfortable stay for our 1 week family holiday trip. we were googling up desert safari company on Google and came across desertsafaridubaitours which offered us 180 AED per person for safari tour, since we had an infant we were little concerned about dune bashing which sounded a rough desert drive.we were told that we can get a booster seat for our infant child, so we booked 4 seats for our next day desert safari in Dubai.
we were really looking forward to this trip, and next day afternoon around quarter past 3 we received a call in our room that our drivers were at the reception to pick us up at Atlantis reception.we made our way to the SUV and there were 2 other tourists sitting in the Toyota land cruiser. It was a 4o minutes driver away from our hotel to the desert area, we left the hustle and bustle of the glittering city and saw some amazing desert views, at the desert entrance our driver stopped the car for some deflating of tires, and suddenly after he stepped on the accelerator and the roller coaster ride began, it was 30 minutes of driver through rugged desert, we loved the dune driving it was not that fast as it seemed, there was no friction between tires and the sand dunes.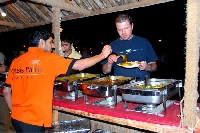 food at evening safari in..
After the dune driving we stopped at the camel farm for camel ride, my wife and kids really loved the ride and we took some amazing photos.Later we proceeded to the sun set point where every one took pictures and our next stop was the desert camp site which really amazed us.A beautiful camp site set up in the middle of no where with beautiful carpets, lowered tables, Bedouins and cushions. we were given a separate table to relax and guess what? a local dress called Qhandora a light weight dress which was a local dress in Dubai, we wore the dress and took some more pictures and felt like a local at the camp site .There were shops for handicrafts, different slots for drinks, tea, and coffee.The food was also being served at the camp site with BBQ grill and its smell stunned us , we all enjoyed our dinner with fresh fruit drinks and fresh salads.sheesha smoke was also present in all flavors, our kids loved the face paintings even I had a scorpion tattoo on my arm.
once the serving of the food was finished we heard strange surprising screaming as when we looked back we saw an amazing and exotic belly dancer in a lovely dress making her way to the stage, she entertained every one with her amazing dance moves in desert safari Dubai tour .The dance show ended up making every one dancing at the stage as the belly dancer in the end welcomed few guests who seemed to be taking interest in taking part in dancing with herself, truly we had never seen such dancing moves.
After the belly dance finished there was another Dance show that we all enjoyed was called Egyptian Tanoura show, amazing dance in lightning glittering glow dress under star lit sky.Around 08:30pm every one was asked to return back in to their 4x4 SUV Land cruisers. we had a wonderful experience and we took some great shots with our Nikon camera. It was one fabulous tour that I got booked from
desertsafaridubaitours.com