March 26th, 2010
When I planned my holiday in the Dominican Republic I wanted to make sure I didn't stay in a fancy resort or hotel full of tourists. I wanted to experience something real so I decided to live with the locals for a period of 35 days.
It has been an unique experience and meeting the people and exploring the beautiful nature was just amazing. The beaches were gorgeous and all decorated with beautiful green palms waving in the wind like the were actually welcoming me to this paradise on earth!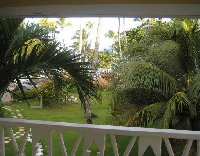 The view from my appartment..
I stayed at Las Terrenas, at about 30 chilometers from Samanà and here tourism isn't yet as booming as in Santo Domingo or other popular places. There is a nice and laid back atmosphere and the ocean is just beautiful with crystal clear water and white soft sand.
I rented an appartment for 200 Euro's a month which is a reasonable price for a place with all the comforts it had. I never experienced any trouble being on my own and eventhough the Dominicans will try to scam any tourist willing to listnen I guess you just have to keep your eyes open and you'll be fine.
My apartment had seperate bed, bath and sitting rooms with a private balcony and located 20 meters from the beach, I mean what more can a person ask for? From my front door I walked to the beach in the morning and at night I tried the menu in the different bars and restaurants. I don't think I ever ate that much seafood in my life!
There are two or three main clubs where the party gets started later in the evening and a bit further from the centre you'll find a wide range of bars where most of the Dominicans celebrate the weekend.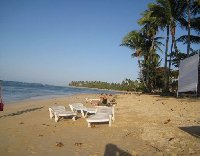 Photos at the beach,..
From Las Terrenas I also visited El Limo, a fantastic place which can be reached by horse. Upon arrival a beautiful waterfall which will take your breath away awaits you.
Another place worth a visit, and closer to Samanà, is the beach of Las Galeras with its endless stretches of sand and construction free coastline. If you're travelling to the Dominican Republic the month of February would be great for spotting whales migrating and coming into the Dominican waters to give birth to the little ones.
I did visit other places but I still think that Las Terrenas tops the list as the most beautiful town. For example, the capital Santo Domingo can be more dangerous and the best thing is to visit the city with a guide or someone who is familiar with the different quarters and city areas.
I travelled a lot by scooter which can be rented almost anywhere for a couple of dollars. You will see the locals hop on in four which makes it look even more easier than it is! And the best part is that you won't have any trouble finding a parking place, what a country!